posted on Apr 11, 2017
Michelle & Chris' Private Residence Wedding
(and their one piece of priceless advice)
Nestled amongst the billowing trees of Winter Park, Florida and under a bright moonlit sky, Michelle Pae and Chris Gardner celebrated their wedding with their closest friends and family in the backyard of their private residence. It was a wedding that no one will forget (and the gorgeous photography from Curtis Studios will ensure that).
After a beautiful ceremony at First United Methodist Church in Winter Park, Michelle and Chris welcomed their guests into their home for an evening of decadent food and dancing al fresco.
"The best part was that it was STRESS FREE. I loved our ceremony in our church and hosting our reception in our backyard where we have built a life with our kids." says Michelle.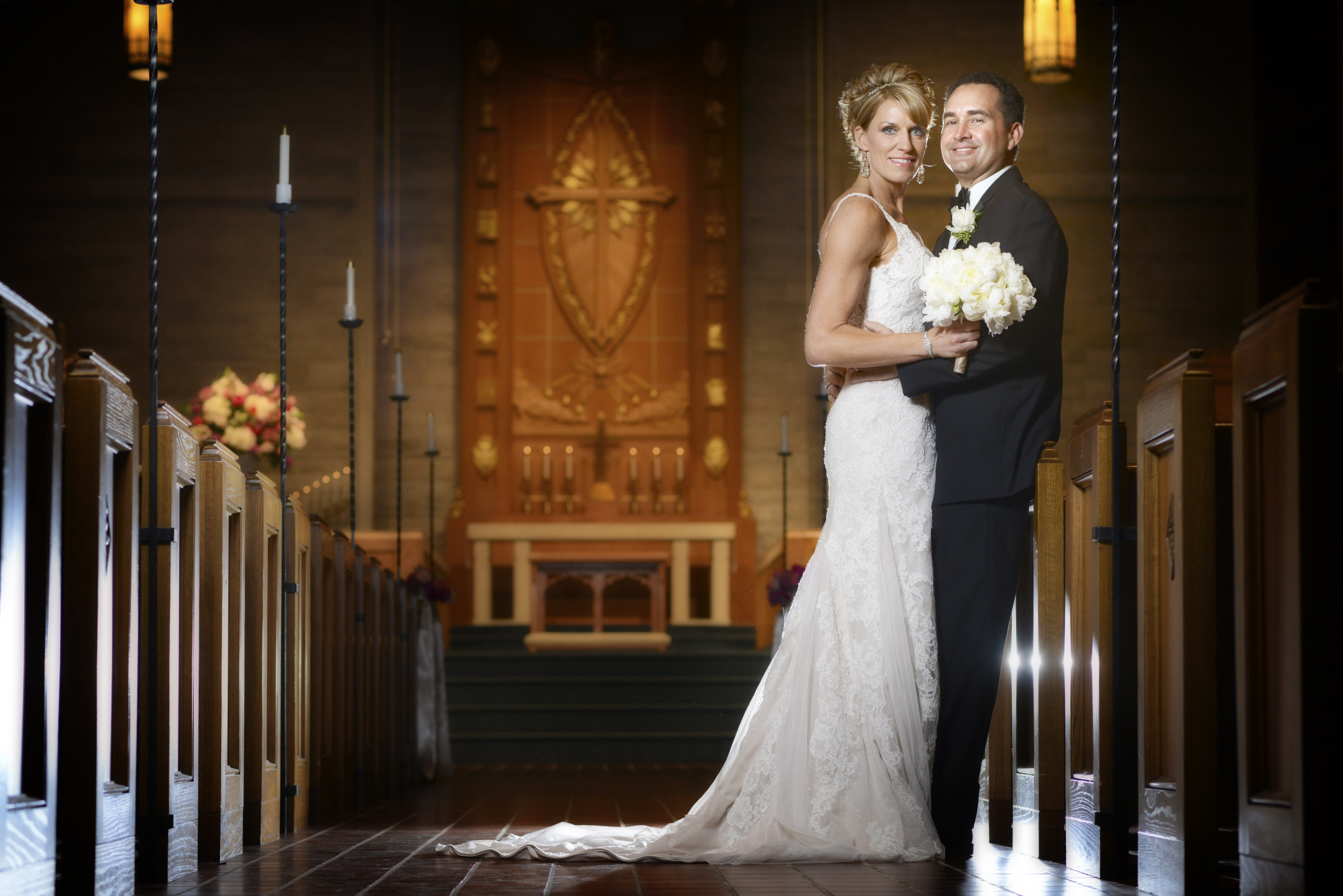 Michelle and Chris exchanged vows in the serene church where music composed by Chris' grandfather filled the air and made the ceremony uniquely personal.
Their daughters shined in antique teal dresses with bright pink and coral bouquets from Lee Forrest Design, the colors chosen for the wedding. Michelle's stunning hair and makeup was done by Marjorie Robinson.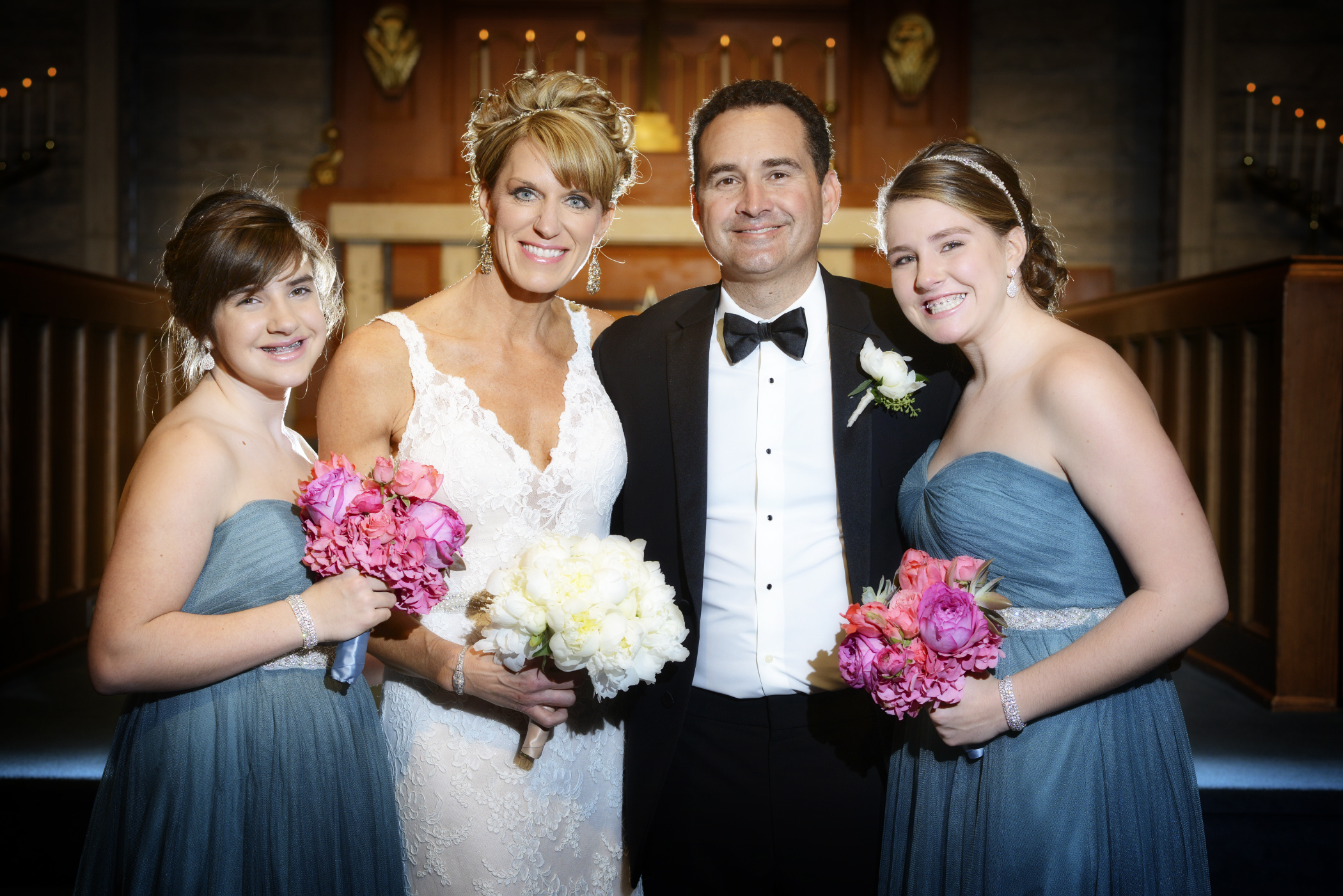 After the ceremony, guests arrived at Michelle and Chris' residence and were escorted to the backyard where an elegant reception awaited them catered by Arthur's Catering. Butlers passed champagne along with hors d'oeuvres such as mini pulled pork grilled cheeses, lobster corndogs, and lollipop lamb chops.
Amongst the breathtaking surroundings, guests mingled and dined throughout the stationed reception dinner, making the evening relaxed, yet divine. Some of the favorite stations included:
Street tacos featuring Korean pork street tacos with homemade kimchi, ahi tuna with avacado and pineapple teriyaki, and mojo crispy chicken with caramelized onion, cilantro, and mojo sauce.
Savannah Shrimp and Grits with mushrooms, onion, bacon, corn, jalapeno corn muffin, scallions, and hot sauce.
Wild mushroom ravioli with wild mushroom cream sauce, spinach, wild mushrooms, and frizzled leeks.
Can you imagine how fun it would be to try these different stations as the sun sets in the warm glow of the night?
Guests continued to be wowed by Arthur's Catering with additional offerings such as California rolls and seared peppercorn ahi tuna martinis. Yum!
As evening descended upon the dinner, a personalized gobo (a specialty light shield that allows a light display of monograms, logos, and other details) provide by Kaleidoscope, lit up the pool and the cake by The Sugar Suite featuring antique teal roses was displayed.
Guests danced the night away as the palms swayed over the dance floor provided by Letz Dance On It (one of those items to put on your checklist if your reception will be in a non-traditional reception venue) and the biggest splurge of the night was their band, Bay Kings Band that guests enjoyed under the string lights glowing from tree to tree.
The most memorable moment of the night? The first dance of Chris and Michelle as husband and wife to "Into the Mystic" by Van Morrison.
In the blink of an eye, the much anticipated wedding day came to an end, but the memories continue to live on.
After a picture perfect wedding day, Michelle has one piece of advice for brides that we find is spot on and we encourage all brides to do:
"Take 10 minutes at the reception to spend with your husband alone. Look at all your friends and family members that are there to celebrate you and take it all in."
Does the thought of a private residence (whether it is your own or something you'd like to find), intrigue you for your Orlando wedding?
If you'd like to look into further and would like help in planning this stunning option, contact me at michele@michelebutlerevents.com.