posted on May 17, 2017
The excitement. The nerves. The commotion! It's almost time for you to start getting ready for the moment of your life!
Don't leave your planning for just the ceremony and reception. A few small details in your getting ready room can make all the difference between stress and serenity. Trust me!
Here are 3 tips for a relaxed and fun time while you get ready for the big day:
3. Let Music Fill the Air
A perfect job for a bridesmaid, bring portable speakers and music to play throughout the day. Remember that not everyone in the room may enjoy the latest top 100 songs, so my recommendation is to fill your playlist with wedding specific songs from a variety of generations Need some ideas? Try:
– Going to the Chapel by the Dixie Cups
– Marry Me by Train
– Marry You by Bruno Mars
– This Will Be by Natalie Cole
– This I Promise You by N'Sync
2. Must. Eat. Protein.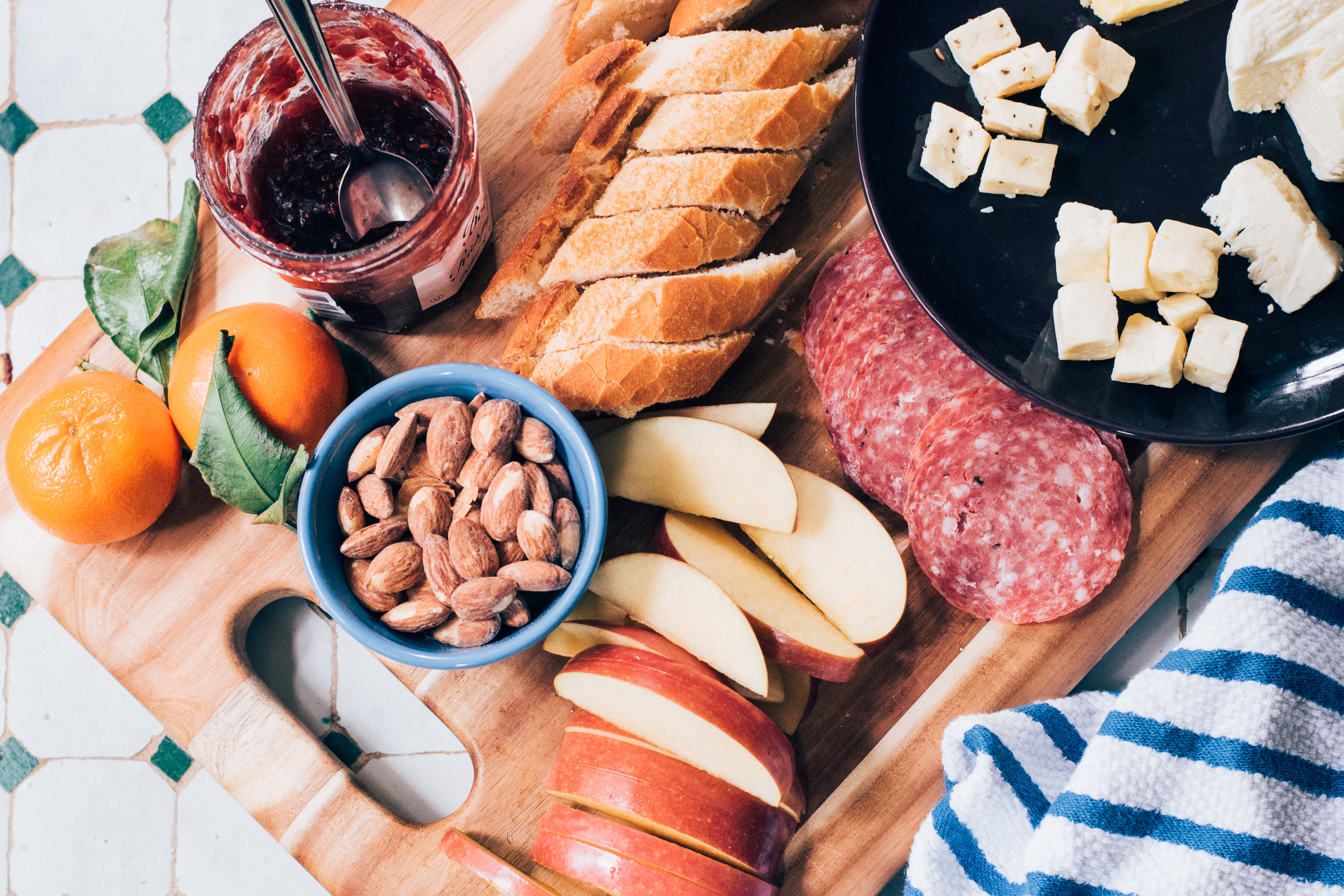 The fruit and muffins will look beautiful and taste scrumptious, but make sure that you have a few options of good protein. Even though you may not feel like eating, a serving of protein will keep you focused and grounded. It's a big day with a lot of people to talk to and you can easily go the entire night without eating a bite (this happens more than you think!). Make sure before you head down the aisle, you sneak a morsel or two. Here are some easy options for caterers or home chefs:
– selection of cheeses
– hard boiled or deviled eggs
– bagel or toast with peanut butter
– yogurt drinks
– crackers with tuna salad
– mini deli sandwiches or burgers
– nuts (almonds, walnuts, pecans, peanuts
1. Laugh, Don't Cry.
Yes, I know it's stressful. Yes, I understand things may not go perfectly as planned. Yes, I can't believe that happened! My antidote? Have a little laugh over it.
While you are all getting ready, stress can be at an all time high. Everyone wants everything to be perfect, but if someone's hair isn't cooperating, a shoe is rubbing the wrong way, or a zipper breaks, frustration can put a damper on the excitement. Everyone will be looking to YOU for how to handle it. Will you sigh and pout or will you smile and laugh?
Time and again I find that brides and grooms with a lighthearted sense of humor are the ones who enjoy their wedding the most. They are mindful that things may happen out of their control, people may say things that are odd, and that sometimes it simply just rains. But, their way of making light of whatever it is turns their showers into wonderful memories that they laugh about to this day. Many times, it's those moments that make for the best stories.
If you're worried that it might be hard to smile and laugh, let me take on the stress so you can.
Contact me at michele@michelebutlerevents.com and I will tell you how I can be the fourth "must have" for your getting ready room!