posted on Jan 29, 2018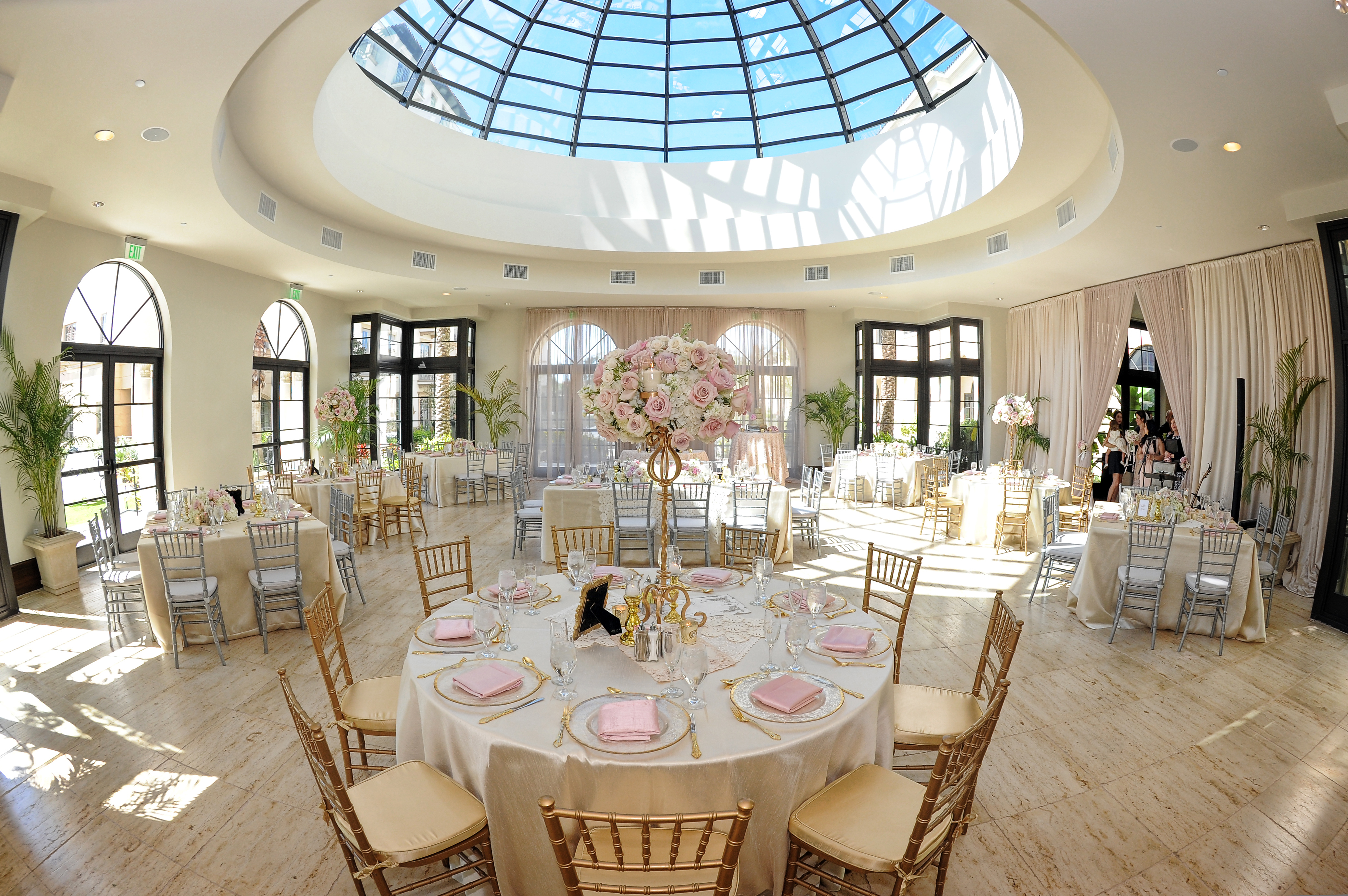 Lush grounds privately enclosed – the perfect set up for an outdoor ceremony.
A stunning glass ceiling atrium shining light onto delicately adorned tables and welcoming dance floor – beautifully romantic for a reception.
Kind and knowledgeable professionals willing to go the extra mile to make your dreams come true – priceless for your most special day.
Sound like a fairy tale? Then maybe fairytales are real after all…
This week, we are over the moon to highlight one of our favorite wedding venues – and one that is featured at The Winter Park Wedding Stroll on February 18 – The Alfond Inn. We've had the sincere pleasure of planning a variety of weddings at this quaint, yet stylish inn and it has quickly become a personal favorite.
Can't wait to learn more? Then let me introduce you to The Alfond Inn's Director of Catering, Jane McLean, who gives us more insight on her gorgeous venue. Oh, and do you love pictures? Well, follow our picture story (photography by Damon Tucci Photography) of our couple Andrea and Matt who were married at The Alfond Inn!
_________________________________
Hi Jane! Can you please describe the Alfond Inn for those who are unfamiliar?
The Alfond Inn is a stylish boutique hotel in Winter Park, Florida that opened in 2013 and was ranked #1 in Florida in the 2015, 2016 and 2017 Conde Nast Traveler Readers 'Choice Awards. Owned by Rollins College, a private coeducational liberal arts college in Winter Park, The Alfond Inn was built with a $12.5 million grant from the Harold Alfond Foundation. Net operating income from the Inn is directed to The Alfond Scholars program fund, the College's premier scholarship fund. The hotel showcases The Alfond Collection of Contemporary Art for Rollins College, which is part of the Cornell Fine Arts Museum. A member of the Preferred Hotels & Resorts LVX collection, The Alfond Inn has a AAA Four Diamond Rating and is managed by The Olympia Companies, an innovative leader in hospitality. The 112- room boutique hotel includes the award-winning Hamilton's Kitchen restaurant, a pool and fitness center, and 10,000 square feet of flexible event space. It is 15 minutes from downtown Orlando and 30 minutes from Walt Disney World and Orlando International Airport. The Alfond Inn, 300 East New England Avenue, Winter Park, FL 32789. 407- 998-8090.


What ceremony location(s) do you have?
Outdoors – Courtyard Lawn, 2,400 square feet of pristine green grass surrounded by lush landscaping.
Indoors – Conservatory/Atrium, 1,600 square feet with a 40 foot glass dome in the center and windows all around.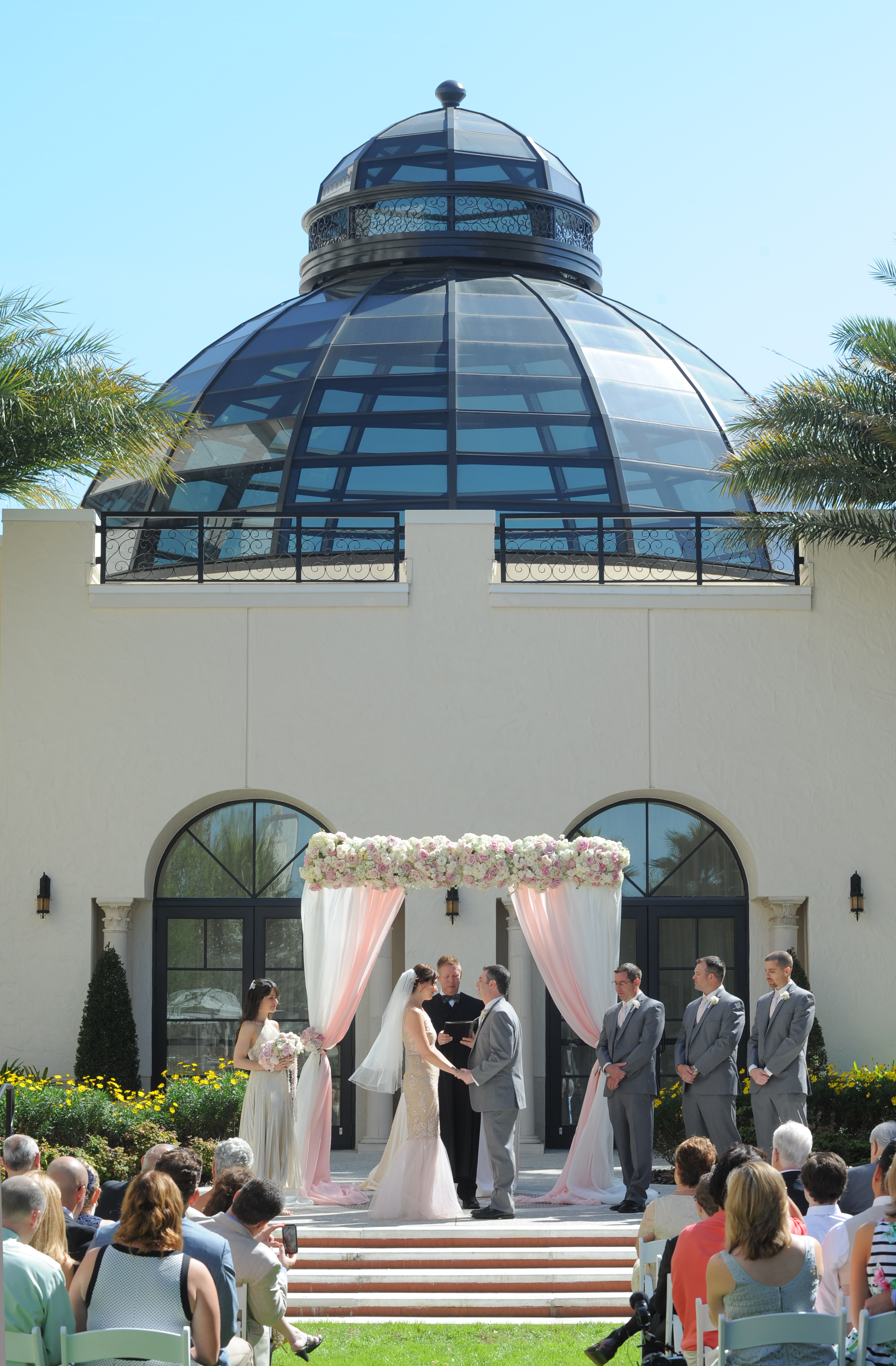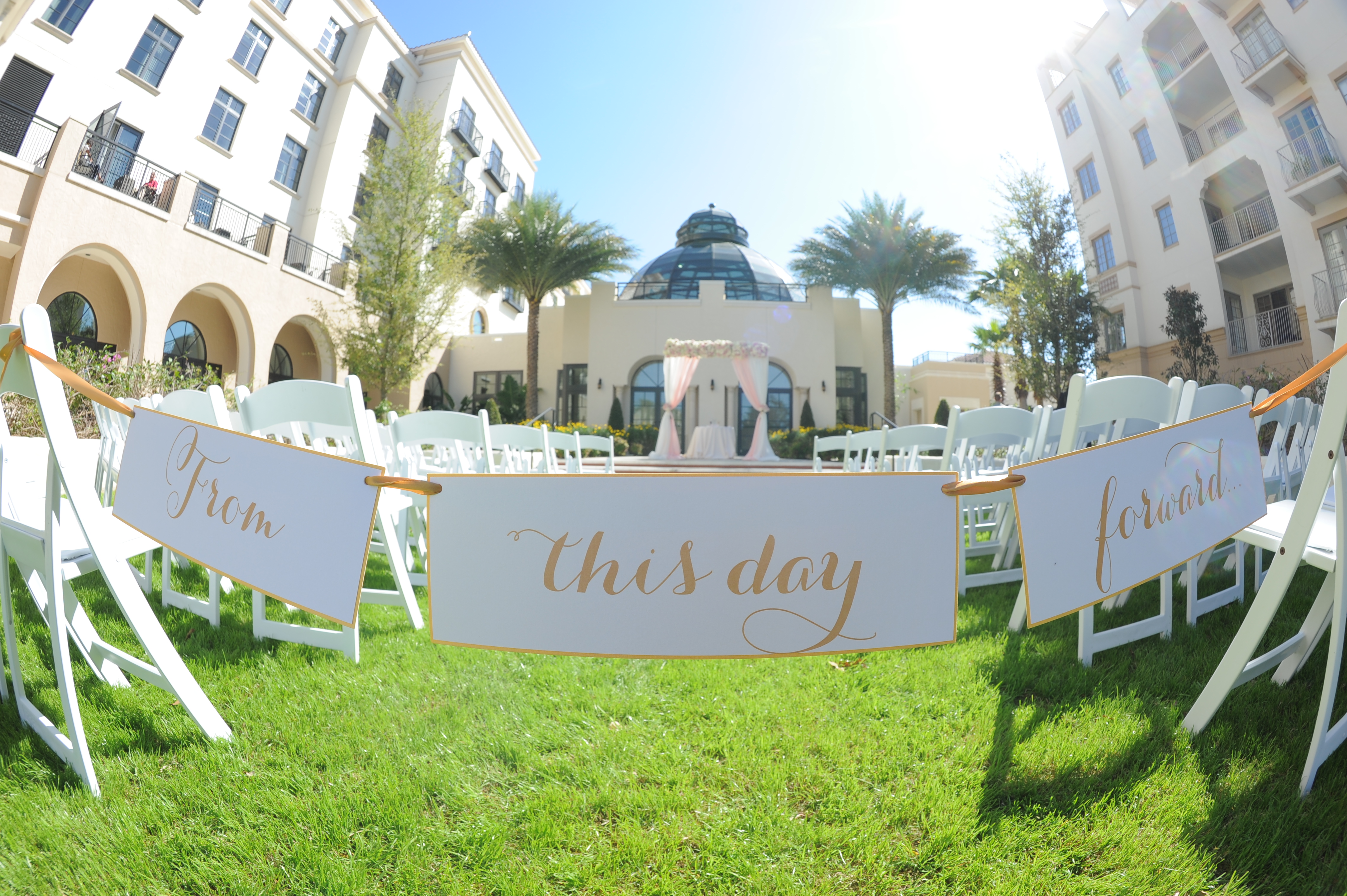 Tell us about your receptions.
We are able to do outdoor Receptions on the Lawn for up to 100 guests. There is a 10pm noise curfew for that space.
Our Park Avenue Ballroom will accommodate up to 240 for a plated dinner with Dance Floor and Entertainment. Ballroom Weddings can go as late as 2am.
The Conservatory can be used for Receptions for 60 and less. There is a 10pm noise curfew for this space as well.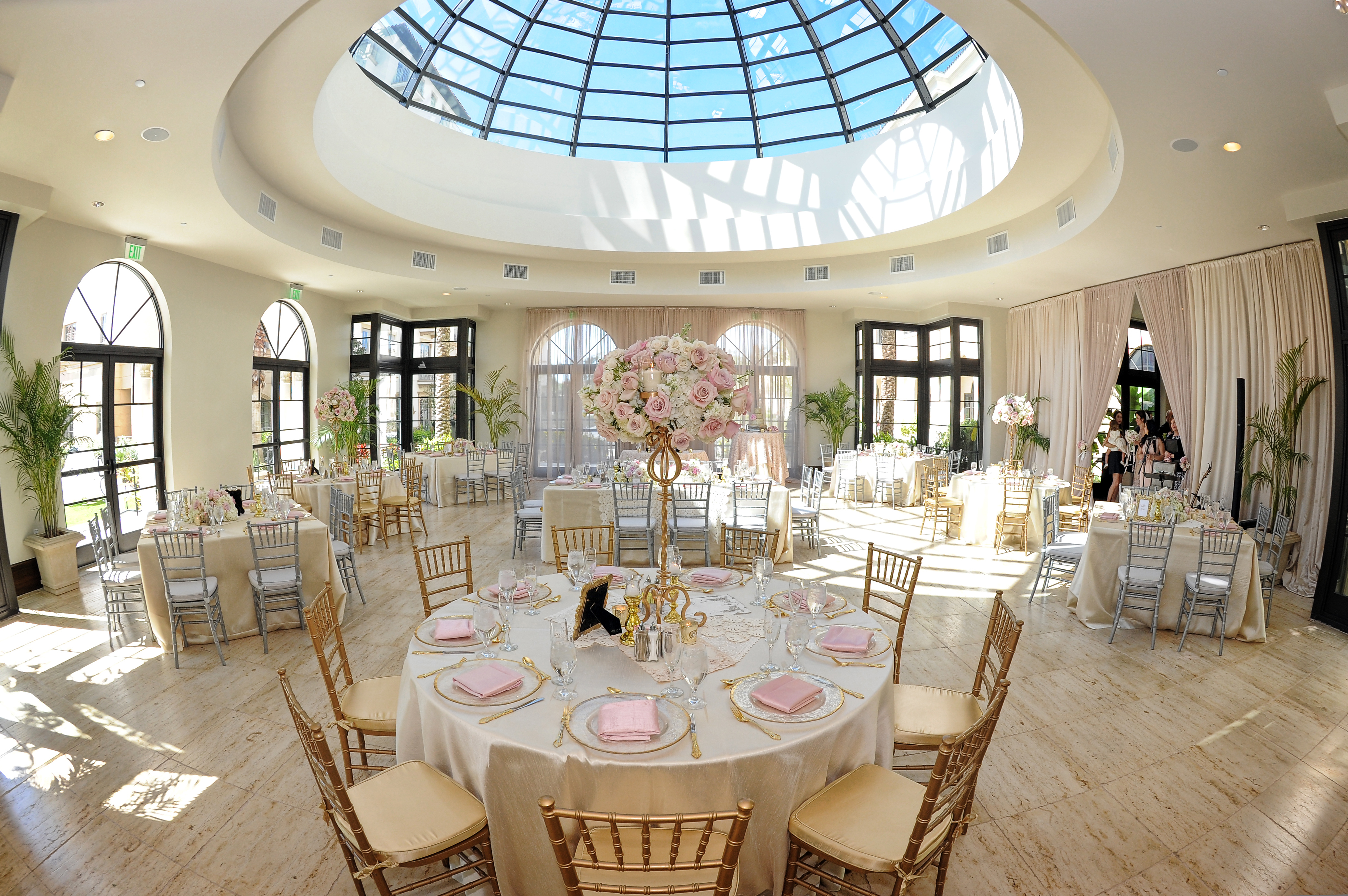 What do couples love about weddings and events at your venue?
We are small boutique luxury hotel with only one ballroom. That is a really good thing. Therefore, we can only do one wedding/event at a time. Our entire staff is focused on the Bride and Groom who has contracted the space. They have our undivided attention for their special day.
Tell us about your catering team – are there any specialities you love? Any unique talents?
Our home office calls us "The A" Team. (for Alfond, of course). Jane focuses on Sales, and has been with us since pre-opening. Kelly focuses on details and execution, she's a pro at conducting menu tastings and designing floor plans. Jenna keeps us all in line with her coordination and organization. Our Banquet Team, led by Rob, is like no other. They are passionate about their work and making sure that the Bride and Groom not only eat at their wedding, but that they have the Time of their Lives.
What do you find most important for couples to know before they visit your venue?
We are in the heart of Winter Park, just a block up from Park Avenue. The Hotel is Valet only. All of our food and beverage for our Weddings and Events comes from the Hotel. We only do one Wedding at a time. We have a very extensive Museum quality Contemporary Art Collection. We are not only a Hotel, but a Museum as well. When you book an Alfond Wedding, it becomes a Wedding Weekend, and not just a Wedding Night. Your guests will have all of Park Avenue at their fingertips. Shops, Restaurants, Bars, Museums, Coffee Shops, and Parks.
What advice would you give couples starting to search for the perfect venue?
Finding your venue is the most overwhelming part of the process. Once you select your venue, a lot of that weight is lift. You can now tell everyone where you wedding is taking place and when. You will begin to see your vision come to life.
What trends are you currently noticing for 2018 and 2019 weddings?
Draping and Lighting are still big. More bold colors, less neutrals.
Are you interested in touring The Alfond Inn and would like to see an actual set up? Then The Winter Park Wedding Stroll is the perfect event to do just that.
Click here to purchase tickets and use code DREAM18 for 50% off!
If you live in Orlando or Central Florida and are planning a wedding or are interested in a destination wedding in the area, please reach out to me at michele@michelebutlerevents.com for ideas on which venues and professionals may be the best fit for your budget and personalities!