posted on Feb 11, 2014
Hey, Cathrina here. I gave this seminar at the Winter Park Bridal Stroll this weekend. I got some great response to the seminar, I thought I would put it online for you all to read along with the slides used during the presentation. Hope you enjoy and learn something! xoxo -Cathrina
Hello Everyone. Welcome to to Pinterest: A Bride's Best and Worst Friend. My name is Cathrina with Michele Butler Events. I am an event planner and designer and am one of the producers of this lovely event.
How many of you are on pinterest?
How many of you started a pinboard as soon as you got engaged?
How many of you started a pinboard before you got engaged?
How many of you have so many pins, you are now completely overwhelmed and have no idea of what direction to to take your wedding?
Pinterest is an amazing tool. I use it all the time for my clients. I use it to communicate new ideas to other vendors. But I also use it for silly stuff like sharing memes and recipes like everyone else. And like everyone else, I can sometimes fall down the Pinterest Rabbit Hole —pinning everything that tickles my fancy. This is all well and good, unless you are planning a wedding. In this seminar, I'm going to give you tips on how to edit your board and how to use inspiration to your benefit.
The biggest thing most brides forget about when planning their wedding is who they are and what their personal style is. I did this little exercise to demonstrate how pinspiration can skew your perception of yourself. I did some searches and picked the first image that I really liked based off of November Weddings.
BLIND SEARCH
First I searched: Orlando Wedding Venue
Second I searched: Autumn Color Schemes
Next: Bouquet
Wedding Dress
Autumn Wedding Decor
Now all of these images are beautiful and actually complement each other really well, but I don't know if they are really me. So now let me tell you about myself. I'm 33 years old, my husband and I are celebrating my 10th wedding anniversary in November. I am a city girl who got transplanted to a sleepy beach town when I was 11-years-old. My favorite periods in design and art are impressionist, art deco, mid-century modern, and industrial. I love vivid color. I'm a hopeless romantic who loves poetry and Shakespeare, but I love science fiction and fantasy.
So now I tried this exercise again focused on who I am and my personal style and also remembering that this would be for an anniversary and not a first time wedding.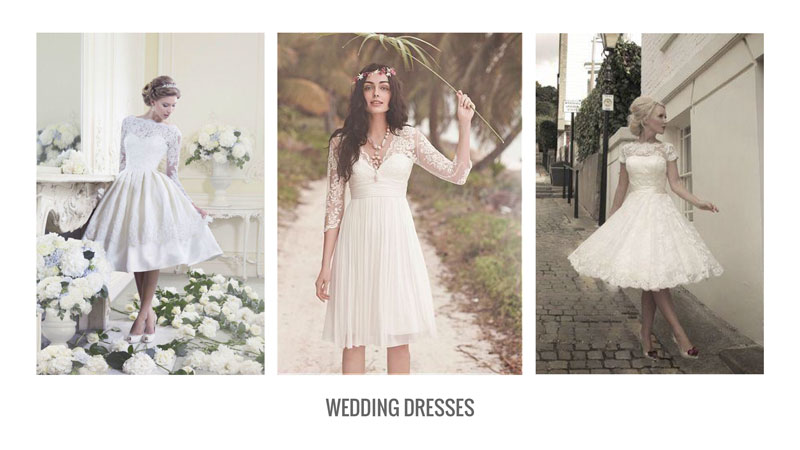 Pretty different, huh? Granted, I have done this exercise every time I create a new board for a client.
So how can you make pinterest work for you? I have to repeat this. The number one thing you can do is remember who you are:
REMEMBER WHO YOU ARE
Don't have a venue yet? Think about your favorite kind of Architecture. Not familiar with styles of architecture? I know, not everyone is a total art history and architecture nerd like me. Think about buildings in movies you loved. What drew your eye to it? For example, Tiffany and Alex had no idea where they wanted to get married. But when I asked them their favorite movie house, she said, "Home Alone." Which I quickly replied, "Colonial"
Her response was priceless, "Oh My God, I do love colonial! British Imperial colonial!" So they picked the Veranda. It has brightly colored siding, shutters and obviously, verandas, that are reminiscent of West Indian colonies.
It's so easy to go with a really popular color story. Especially when it comes up repeatedly on Pinterest. Last year it was all about champagne and blush. But the problem with this color scheme, is it isn't complementary to every skin tone or every venue. This year the color of the year is radiant orchid. I love it. It's bold and vibrant. But the problem with going with a popular color is that it may not be you. I always think back to the late 80s and the overuse of Hunter Green and Peach. If you don't know where to start, look in your closet, look around your house. What is your personal style?
Marcie and Matt are current clients of ours that are planning their wedding at the Waldorf Astoria Orlando. Since they live so far away, our design consultation had to be done via skype. They were unsure of what colors they wanted to use.
All I had to do was look at what they were wearing and the decor of their home. So I created this palette of gorgeous, grays, silvers, lavender, and midnight blue. It's chic, sophisticated, and complements their venue perfectly.
INSPIRATION NOT EXPECTATION
The second most important thing to think about when you are on Pinterest — Pinterest is for inspiration, Not for shopping.
Don't plan on finding your perfect gown on Pinterest. Fashion changes seasonally, gowns get discontinued, some gowns are heavily modified for the individual. The best thing to do is find styles you are drawn to and bring them to the bridal boutique and look for something similar. Also remember, what looks good in a photo may not look good on you in person. I swore all I wanted was a simple 1920s style sheath dress when I first started looking, but I'm short and curvy. I was completely stunned by the kind of gown I fell in love with. I went with dropped waist, A-line, organza with simple beading. Completely different. Don't commit yourself to a look without trying it on.
Floral, Decor, and photography styling is the biggest place our brides get completely overcome by the "repin".  They are so overcome with beautiful things of all shapes, sizes, and price tags. Brides will also find the perfect bouquet and tell their florist and say I want exactly that. This goes back to what I just said about the gowns. Be inspired and not literal. Florists consider themselves artists and are really proud of their work. They don't want to be copied and they don't want to copy anyone else. Also, there are so many other variables—seasonal availability, budget, act of god destroying the green houses. It happens and you have to be open to flexibility. Show them what is inspiring you, let them know who you are, and let them interpret that idea and have it fit you. No matter how simple or grandiose your idea is, communicate with your florist, trust they will find a way to create something you love that is tailored to your style and budget.
All of the above also goes for photographers. They are artists, who are trying to capture your moments. If there are too many pre-planned poses or props, you might miss a wonderful, intimate moment that can be captured.
I bet you anything that these pictures weren't planned by the bride and groom at all. They were captured by the photographers while you were in a moment.
DIY this DIY that. Brides are easily tempted by the Budget DIY projects. It used to just be invitations and favors. Now it's bunting, backdrops, props, and everything imaginable. I don't know about you all, but I'm a busy woman. I barely have enough time to cook dinner and sew a button on a coat let alone create 100 dip-dyed napkins, homemade preserves, and who knows what else. If you are a bride who is just as busy as I am, I want to ask you, in all honesty. Do you think you have the time to tackle these projects? Are you ready to sacrifice all your free time over the next few months on projects for your wedding? If you or fiance are already in the creative industry say graphic designers or set builders (which I have had as clients and yes the weddings were phenomenal), or if you have always been crafty, by all means. Use your talents. But if you don't fall into this category, now is not the time to pick up a new hobby. DIY works best when you are proficient at it.
Before you even start a single project, you have to create a guest list, pick and mail your invitations, record your RSVPs, assign seating, figure out how to arrange the seating, hire other vendors, attend tastings, venue walk-throughs, and if you are getting married in a church, you'll have to attend premarital counseling classes. I'm not saying don't DIY, but what I am saying is be reasonable, ask professionals, and shop—Do it Yourself, but don't do it ALL yourself. There is a good chance that a lot of these cool vintage pieces you want to purchase at thrift stores and antique shops are available to rent. I know for a fact one of our Vendors, RW Events, as a great selection of that stuff. Also, as trends change, so does the stock florists carry. There is a good chance if you ask them if they have teapots and tins to use as vases, they probably have them. I'm also a big supporter of small businesses especially on etsy. If you saw something you loved on etsy, just order it. You don't want to be that bride crafting the day before your wedding. And yes. I have seen brides hotgluing projects in their hotel rooms the day of the wedding and it most definitely raised their stress level.
So I know I shared a lot with you, so let's try and sum it up:
REMEMBER WHO YOU ARE: Edit your pinboard and remove anything that doesn't fit your personal style
INSPIRATION NOT EXPECTATION: We [vendors] want to see you pinboards. But if you can be flexible with your expectations and give your vendors trust, we can exceed your expectations.
BE REASONABLE: Take on only the projects you know you can do
If in the end, you are still completely overwhelmed, hire a designer. Here is an example of what I call a design deck.
I take all our bride and groom's inspiration and make this overview and send it to all the vendors involved. This is Tiffany and Alex's board. I mentioned them earlier. They recently got married at the Veranda. You can see how I took their inspiration and the end result.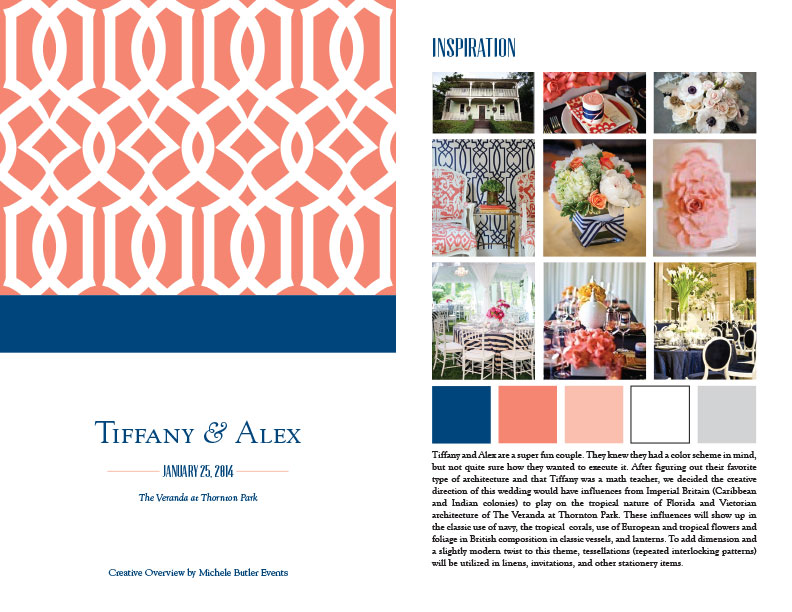 Thank you, my name again is Cathrina with Michele Butler Events and you can follow me at pinterest.com/catsandio. I break all my boards down by theme and many of them were inspired by real brides, which I then pin photos from the event on the same board. And just a warning, I'm a total nerd so you may see a few Doctor Who, Harry Potter, and other nerdy stuff find it's way through the feed. But that's me.