posted on Jul 12, 2015
We had so much fun getting to fly up to The Cape for Erika and Ryan's wedding. It was a beautiful event and we were so honored to be treated like family by the Rosewells and Luczynskis.
---
What was the best part of your wedding day?
Too hard to pick just one! We loved our first look, and the precious time we had after pictures with our closest family and friends sharing a first toast. The experience of being in a room surrounded by those you love the most is an indescribable, incredible feeling.
Where did you go on your honeymoon?
Martha's Vineyard for a mini-moon, and it was FANTASTIC. Great food, scenery, and a wonderful time of year to be on the island.
Where are you now in life?
We moved to the New Hampshire Seacoast, and just adopted our second rescue dog. Loving married life in our new home!
Were there any special traditions incorporated into your wedding?
Yes, while the ceremony itself was non-denominational, since Erika's family is Jewish, we decided to incorporate many of the beloved Jewish traditions such as the prayer over the wine under the chuppah and the breaking of the glass. Also, we were married by a minister (Erika's great-uncle) and serenaded by a cowboy as we walked down the aisle – while not the most traditional approach to a ceremony, it was a perfect reflection of us!
What was your color scheme or theme?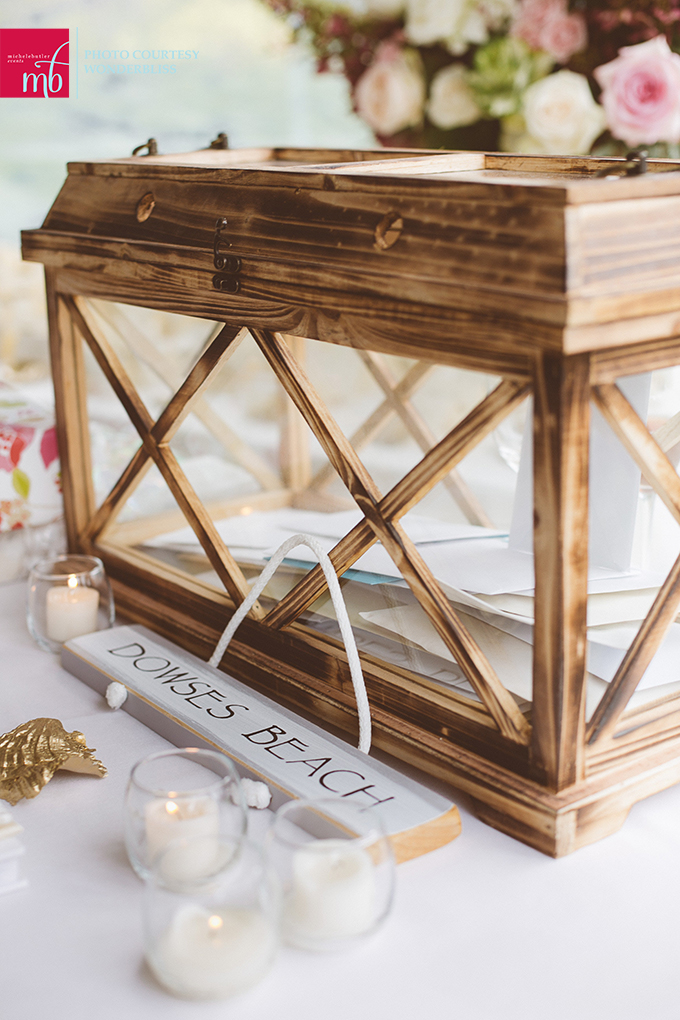 With the wedding taking place at a beautiful old estate on the beach on Cape Cod, we knew we wanted to include a nod to the ocean without overdoing the typical 'nautical' theme. Colors were kept neutral, with the bridesmaids carrying bouquets of blush garden roses, cream dahlias and greens, and wearing olive green dresses. The men wore grey suits with light blue gingham and navy ties to reflect the backdrop. Escort cards were gold-painted oyster shells – a delicacy for which we share a love!
What is the one thing you had to have at your wedding?
Raw bar and a homemade pie station in lieu of cake. It was the highlight! Also, Erika had her Mother's wedding dress made into her 'party' dress, which was pretty special.
What was the best decision you made in regards to your wedding?
The location. After months of research and visits to different venues, we realized there was no more meaningful place on earth than a beautiful old home on the beach Erika grew up on. It proved the perfect, gorgeous backdrop for our amazing day.
Do you have any advice to a new bride?
Relax and enjoy – try not to get caught up in the small stuff. When they say it flies by, it's the truth!
Was there anything you wished you had done at your wedding that you didn't do?
Something I have seen at other weddings that I did not do was to provide disposable cameras (or iWed cameras) at the table for guests to document the evening through their eyes – the more candid, the better!
What was your big splurge?
A photo booth. Definitely worth it!
Is there anything you would have done differently?
Not that I can think of. It was truly an amazing day.
What was the most memorable moment?
Again, hard to choose one. Being surrounded by family and friends from all parts of life was the memory we both reflect most upon when remembering our wedding day.
How was your experience working with Michele Butler Events?
AMAZING, to say the least! From design to logistics, Michele and Cathrina were there every step of the way. They thought of and took care of every last detail and made sure the event ran smoothly,  which was no easy feat given that we didn't have the layout of an actual venue, and everything was brought in. They are professional, supportive, creative and organized – I truly could not have gotten through the experience without them. They are amazingly talented at their craft and could not come more highly recommended!
---
Wedding Consultant, Michele Butler Events
Photographer, Wonderbliss
Event Site, Private residence
Caterer, Casual Gourmet
Dessert, Centerville Pies
Restrooms, Elegant Restrooms
Tent & Rentals, American Tent
Hair, Salon by Justine
Makeup, Kristina Jones
Floral Décor, SeaGrass Floral
Ceremony & Cocktail hour musician, Anthony Culver
Videography, DJ, & Photobooth, Mikes Music
Transportation, Cape Destinations