posted on Jul 15, 2017
The excitement of traveling. The dream destination. The exquisite vision of walking down the aisle with your feet in the sand…well, or your sneakers in the vineyard…your cowboy boots in the field…or maybe your ski boots on the slopes!
Destination weddings are not only a hot trend, but a classic idea that never goes out of style. But with virtually endless options of where, when, and with whom, how does a bride and groom go about finding just the right wedding location and enjoy it along the way?
Our experience in planning destination weddings around the world have given us insight into how to make dreams come true. Here our 3 keys to your dream destination wedding:
1. Ask & Compromise
One of the most important elements to a successful destination wedding is having open communication between the both of you of what you want, what you need, and what your budget is. The questions you ask yourselves in the beginning will set a solid foundation for your planning moving forward.
Ask yourself and your partner the following questions; answer on your own and see how similar or different your answers are:
– when you picture your kiss at the altar, what do your surroundings look like?
– what do you envision wearing?
– who do you picture seeing when you walk down the aisle?
– what does the celebration after your ceremony look like?
– how much money could you budget for your wedding? how much could you budget for travel expenses?
– where do you picture your honeymoon to be? at the same location or somewhere else?
– how much time off work could you realistically take?
– how customized do you want your wedding or is a wedding package more ideal?
Answering these questions honestly and listening to each other's desires can be eye opening, even when you think you know before discussing.
2. Find Your Dream Team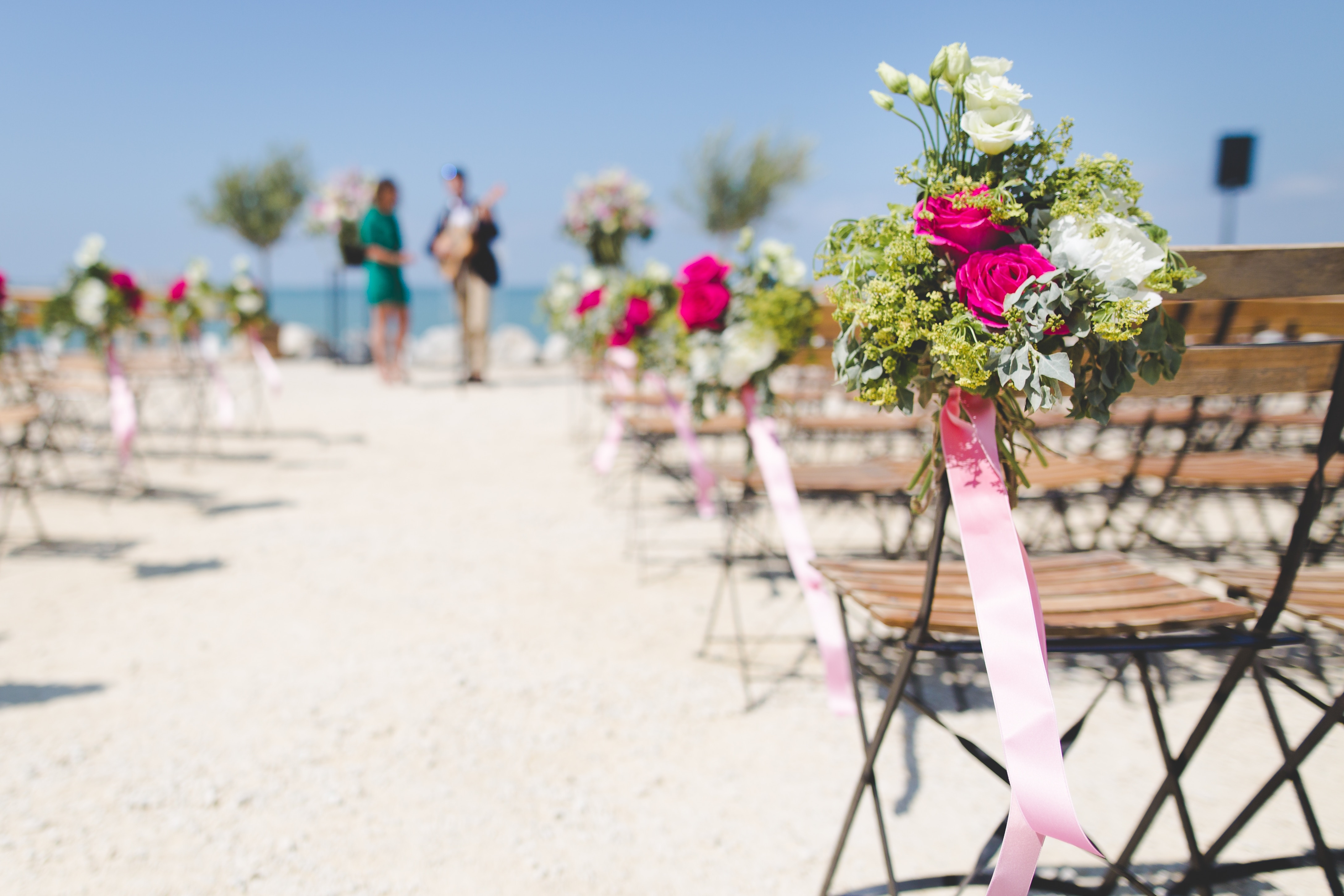 Having a destination wedding may seem like an easier route than a traditionally local celebration (and many times is!), but there are different stressors to be aware of when traveling out of your own city. Cultural differences, language barriers, transportation needs, currency variations, etc. So how do you work with these challenges without putting extra stress on yourself?
Find your destination wedding dream team. Particularly your dream wedding planner.
One of the first ways to go about selecting your wedding vendor team is to find someone who specializes in weddings in that location or in destination weddings altogether. You can pick a wedding planner that lives and works in your desired destination and knows the area and wedding vendors well or someone who knows exactly how to navigate a different location with dedication and expertise and has a network across the globe to call on. Either way, we highly recommend a wedding planner (whether that be our team or someone else) so you have just one contact and you can rest easy.
One key factor in determining who to select is to consider how much help you need in planning.
Some resorts have their own wedding specialists or wedding packages that include a wedding planner. Ask exactly what they will be available for and how much they will help you customize your wedding (if that is what you desire). Also keep in mind, you may not meet them in person until the day before your wedding.
If you haven't found just the right place yet, are looking for someone to sit down with and plan out all of the details, will need help organizing your guest list of where everyone is staying and when they are getting in, how they are getting to and from the airport and ceremony, transportation options, welcome bags at each hotel, a creative rehearsal dinner or welcome party outside of the resort, etc. then finding a private wedding planning company locally that specializes in destination weddings may be a better option.
Whichever you choose, make sure you fully trust and have faith in your planner.
3. Let Go Of Expectations & Enjoy
Do you envision all of your closest friends and family surrounding you as you say your vows? Do you secretly expect the resort to automatically upgrade you because you're getting married there? Or, is a perfectly sunny and still wind weather day set in your mind?
Be careful of your expectations – especially when traveling.
Try not to take it personally if you're best friend isn't able to attend, if your room isn't upgraded to your ideal suite, or humidity and blowing wind ruffle your hair a bit.
Destination weddings have different elements to carefully consider. Some of your guests may not be able to attend – whether that's because of financial reasons, time off of work, or even a personal reason such as being uncomfortable traveling by themselves, don't pressure your guests or have expectations that they will be there.
Other elements – such as weather or your resort, may be simply out of your control. The more you can let go of those "dream visions" and be in the moment, the more your "dream wedding" will become reality. Because at the end of the day, it's the love and life you are committing to that is most special.
Are you considering a destination wedding in Orlando or Central Florida?
Or are you thinking of a destination wedding somewhere else in the world?
Our wedding planning team has vast experience and knowledge of destination weddings and we would love to talk with you further about your dream wedding. Email me at michele@michelebutlerevents.com and let's talk about it!